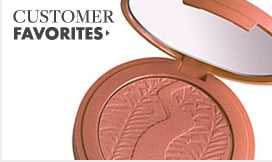 Glamorous beauty products shouldn't have to be formulated with harsh chemicals. When beauty expert Maureen Kelly founded tarte in 1999, she was determined to demonstrate that powerful, effective cosmetics could be created using natural ingredients. Today, tarte has become the beauty brand of choice for women who want their skin to feel as good as it looks.


SHOP ALL TARTE PRODUCTS
 |
CHOOSE CLAY FOUNDATION SHADE
 |
READ MORE
tarte

Fortified by natural, skinvigorating™ ingredients like superfruit and plant extracts, vitamins, minerals, essential oils and other naturally derived ingredients, the formulas that make up tarte cosmetics' deliver gorgeous, long-lasting results. All tarte beauty products are made without parabens, mineral oil, phthalates, sodium lauryl sulfate, triclosan, synthetic fragrances and gluten. As a cruelty-free brand, tarte also offers many vegan-friendly, hypoallergenic, and dermatologist tested products.

From the award-winning blushes and fan-favorite lip paints to best-selling eye shadow palettes, tarte cosmetics offers a wide range of options for enhancing your natural beauty.

Amazing Benefits of Amazonian Clay

Some of tarte cosmetics' most popular offerings are powered by nutrient-rich Amazonian clay, from foundation to eyeliner to bronzer. This sunbaked clay sourced from the banks of the Amazon River is packed with plant and fruit nutrients that improve skin texture, clarity and firmness while nourishing the skin and promoting a smooth appearance. It's nature's most perfect ingredient for better, longer, truer wear.

Amazonian clay is the key ingredient in several of tarte's top products, including the Amazonian clay 12-hour blush, which was an Allure Readers' Choice Award Winner in 2015. This soft, long-lasting blush gives you a perfect finish that won't fade, and it comes in a range of shades to match every skin tone.

The tarte Amazonian clay full-coverage foundation SPF 15 blends flawlessly while protecting the skin from UVA and UVB radiation. The Amazonian clay BB tinted moisturizer combines the power of Amazonian clay with the antioxidant benefits of vitamins A, C and E and other nutrients to help reduce fine lines and wrinkles to give you smoother-looking skin.

The Perfect Eye Enhancers

tarte's line of eye shadows, eyeliners, brow products, mascaras and more provides a complete eye-enhancing lineup. The tartelette palette offers a collection of shadows infused with Amazonian clay in an assortment of statement-making shades. The lights, camera, lashes™ collection of eyeliners, mascaras and primers brightens eyes and creates fuller-looking lashes.

Colorful, luscious lips

Looking for a versatile product to give you luscious, younger-looking lips? The award-winning tarte LipSurgence™ lip tint is a 3-in-1 lip product that boasts the benefits of a lip gloss, balm and lipstick. Packed with antioxidant-rich vitamins C and E, this iconic lip tint fights skin-damaging free radicals and hydrates your lips while giving you gorgeous color.

Don't forget to put the finishing touch on your head-turning look with the tarteist™ creamy matte lip paint. A wide range of colors allows you to achieve any look, go natural with a nude shade, or bold with a deep berry. tarteist™ creamy matte lip paint is a full coverage, longwearing liquid lipstick with a lightweight, moussey texture that gives your lips a sophisticated, velvet matte finish.