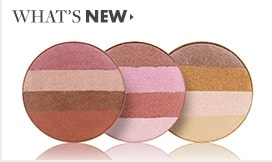 jane iredale uses pure minerals and all-natural botanicals for skin that's nourished, nurtured and naturally radiant. Vitamin-rich formulas smooth, soothe and protect the skin. Made-in-your-shade makeup in a range of beautifully buildable colors offers a high-impact look that's velvet-soft and luminous. Rigorous testing and meticulous research are invested into every cosmetic product that bears the jane iredale name to ensure that each formula enhances both the appearance and the health of your skin.


SHOP ALL JANE IREDALE PRODUCTS
 | 
READ MORE
jane iredale created her line of cosmetics with a purpose-driven approach. Every simple-to-use, effective formula in the collection is formulated to promote healthier skin. Working with input from dermatologists and plastic surgeons, jane iredale sets the bar high for sensitivity and safety testing to produce cosmetics that are beneficial for your skin and friendly to the planet. The scientifically based, natural products can produce real results for your skin and your overall well-being.

A Leader in Natural Cosmetics

Today, mineral cosmetics are incredibly popular among professionals and everyday women, and jane iredale can be credited for launching the mineral revolution. The brand was founded by jane iredale, who spent years working in the entertainment industry. During her time interacting with celebrities, she saw how actresses and models struggled to maintain healthy skin due to the harsh effects of the cosmetics that they had to wear in front of the cameras. She realized that dermatological problems caused by conventional cosmetics did more than just affect the health of the skin; they robbed women of their self-confidence. Motivated to provide a better solution, Jane teamed up with plastic surgeons and dermatologists to develop naturally derived, beneficial products. In 1994, her line of mineral cosmetics arrived on the market and quickly went on to inspire the natural makeup movement.

Suitable for Sensitive Skin

Although the jane iredale cosmetics collection has grown over the last 20 years, the brand has never strayed from the philosophy that led to its creation. The belief that cosmetics shouldn't compromise the health of the skin guides the team of expert formulators at jane iredale as they work to create new formulas for the collection. Every product must be free of harsh synthetic ingredients and must pass a series of allergy and safety tests and earn the approval of dermatologists before it can be made available for sale. As a result, you can trust that jane iredale cosmetics are hypoallergenic and free of chemicals known to be potential irritants.

Cosmetics That Do More

jane iredale understands that every woman wants to look her best but few have much time to invest in their beauty regimen. That's why her cosmetics collection features products that are straightforward and simple for people to use. Many of the cosmetics that bear the brand name are multitasking formulas that can be used for more than one step in makeup application. This means that you can get the benefits of a multi-step beauty routine using fewer products. A perfect example is the brand's popular line of mineral powders that provide the coverage of a foundation, the skin-perfecting benefits of a powder, the camouflage of a concealer and the protection of a mineral sunscreen.

Committed to Doing Good

With jane iredale products now being sold in more than 50 countries, the brand is a true success, and as a company, jane iredale is committed to using a portion of the profits to do good for people and for the world. The company contributes to many groups working to preserve the health of the planet, including The Nature Conservancy and the Wildlife Conservation Society. In addition, jane iredale contributes to charities working to fund cancer research and improve the lives of people undergoing cancer treatment. Through its Community Center, jane iredale supports a number of groups working to improve the lives of people in their own communities.

A Gorgeous, Glowing Face

In the jane iredale cosmetics collection, you'll find a number of mineral makeup products for enhancing your complexion. The brand offers primers, BB creams and CC creams that ready the face for makeup while providing skincare benefits that boost the health of the skin. For correcting skin tone and camouflaging flaws, jane iredale provides foundations, concealers and powders in numerous forms and a wide range of shades. Blush, bronzer and contour products round out the facial cosmetics range and make it easy to accentuate key areas while enhancing the shape of the entire face. The brand's brushes and applicators simplify application and blending to help you achieve natural-looking results in very little time.

Beautiful Eyes and Lips

The jane iredale mineral makeup collection goes beyond basic facial cosmetics to include a wide array of products for the eyes and lips. You'll find natural alternatives to all types of conventional eye and lip cosmetics, so you can call attention to your features without exposing your skin to ingredients that can irritate the most delicate areas of the face. Like the face cosmetics from jane iredale, the eye shadows, eyeliners, mascaras, brow cosmetics, lipsticks, lip liners, glosses and other lip and eye formulas contain skin-healthy ingredients that address flaws and nourish the skin.

Beyond Cosmetics

jane iredale has grown to become more than just a makeup brand. Over the years, the collection has expanded to include products that can be used to take a natural approach to beauty from head to toe. You can shop the jane iredale collection for skin care products, body lotions, sun-less tanners, sun care solutions and a wide range of other formulas that use the best ingredients that Mother Nature has to offer. Discover the jane iredale difference for yourself.