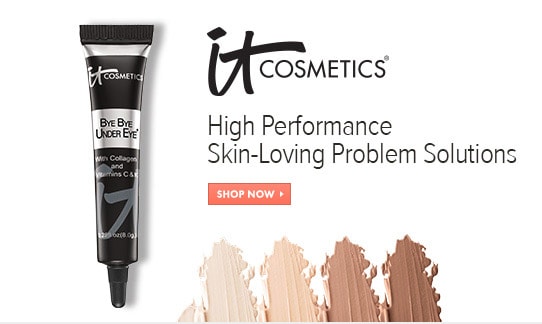 IT Cosmetics stands for innovative technology. Formulated with input from plastic surgeons, the cosmetics combine high-quality pigments with revolutionary anti-aging ingredients to promote a healthy, more youthful complexion over time. The unique benefits of IT Cosmetics have won the brand numerous awards and made it a favorite among many beauty experts and celebrities. You've seen the products in magazines and on television, and now you can experience them for yourself.


SHOP ALL IT COSMETICS PRODUCTS
|
READ MORE
From One Woman's Quest for Healthier Skin

IT Cosmetics has grown to become one of the most well-known high-performance cosmetics brands in the world, but the brand began small with one woman's desire to achieve healthy skin. Co-founder and former news anchor Jamie Kern Lima spent her life battling rosacea. The cosmetics that she wore for the television cameras did little to cover her imperfections and often made her appear much older than she was. Frustrated with her inability to put her best face forward, Jamie decided to come up with a solution. She partnered with top plastic surgeons and dermatologists to put together a collection of makeup products that could not only cover imperfections but also take steps to address the cause. From the start, IT Cosmetics formulas were different than other products on the market, and it was those differences that allowed IT Cosmetics to quickly gain popularity among professionals seeking better solutions for their clients and everyday women longing for healthier, more beautiful skin.

Created by the Experts

Just like the original formulas in the collection, every new IT Cosmetics product introduced today is created by leading experts. A team of plastic surgeons and dermatologists works to develop every product, ensuring that the cosmetics are able to promote healthier skin while providing immediate beauty benefits. After initial research and development are completed, products are put to the test in three-part clinical studies with real women to ensure that they can deliver on their promises. IT Cosmetics makes the results of those studies public, so you know exactly what you can expect from using every formula that bears the brand name.

Problem-Solving Innovations

Most cosmetics on the market today are just variations on classic products with small updates being made to improve their ease of use or enhance their color. IT Cosmetics are developed using a much different approach. Instead of building on what's already been done, the brand starts the development process with a problem in mind. Then, the expert team comes up with a way that makeup formulas can be used to address the problem with both immediate cosmetic benefits and long-term improvements in skin health. As a result, IT Cosmetics formulas are true problem solvers. While they camouflage and conceal with each application, the products can gradually boost the health of your skin to make flaws and imperfections less prominent even when you're not wearing makeup.

Cosmetics That Promote Skin Health

No matter which IT Cosmetics product you're using, you can be confident that the product contains ingredients that are good for your complexion. Every single formula is an effective multi-tasker that does more than just correct skin tone, cover flaws and enhance your facial features. Using IT Cosmetics is like extending your skincare regimen into your makeup application routine, giving you more from every product that you use. Many of the formulas even have built-in natural, chemical-free sunscreens that provide protection from ultraviolet rays that can lead to premature signs of aging and some forms of skin cancer.

Gentle Enough for All Complexions

Many people who are suffering from ongoing skincare problems are also faced with sensitivity concerns and are prone to irritation. That's why IT Cosmetics are formulated to be extra-gentle on the skin. Products are safety-tested and free of ingredients that are known to trigger allergic reactions and worsen irritation. As a result, people of all skin types can use IT Cosmetics without worry.

Giving Back to Women

IT Cosmetics is committed to helping all women lead more beautiful lives and gives back to women through a number of programs. The company has donated more than $10 million worth of products to the American Cancer Society's Look Good Feel Better program to help women who are undergoing cancer treatment feel and look their best while they battle the disease. In addition, the company sponsors the Live Beauty Fully program, which donates to initiatives and charities that are working to improve the lives of women across the globe. You can feel good purchasing IT Cosmetics, knowing you're supporting a company that is committed to providing the best products and giving back to women all over the world.

A Full Range of Solutions

You can fill your entire makeup application regimen with problem-solving cosmetics products from IT Cosmetics. The brand offers foundations, concealers, BB and CC creams and powders to complement every skin tone plus color cosmetics for the cheeks, eyes and lips. Combine your favorite formulas with the professional brushes and applicators in the IT Cosmetics collection for optimal results.