In 1993, Mathilde and Bertrand Thomas took a job at Mathilde's family vineyard in France. There they met Dr. Vercauteren, who introduced them to the antioxidant powers of grape-seeds. Inspired by this discovery, the couple created the world's first luxury Vinothérapie® skincare line using stabilized grape-seed polyphenols. Since then, Caudalie has continued to expand with cult favorites like Beauty Elixir, Vinoperfect Radiance Serum, Premier Cru the Eye Cream, Vinosource Sorbet and the Grape Water.


LEARN MORE
|
SHOP ALL CAUDALIE PRODUCTS
 |
READ MORE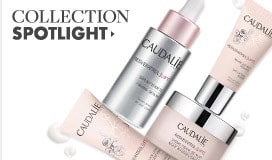 A Pioneer in Natural Skin Care

Before Caudalie emerged on the skin care market, natural skin care products were few and far between. The small number of products that were available were typically formulated on the basis of traditional beauty remedies rather than science, limiting their effectiveness. From the start, Caudalie products were different. While their ingredients were all-natural, they were also backed by clinical research and testing, giving them the ability to deliver real results. Because these natural products were capable of rivaling the benefits of cosmeceutical formulas, Caudalie quickly gained fame and went on to inspire other natural brands. Today, Caudalie products are sold worldwide, and the brand even operates their own spas.

Since the first products were sold in 1995, Caudalie has unveiled new beauty breakthroughs like the Beauty Elixir, Premier Cru La Crème Rich, Vinoperfect Radiance Serum and the Polyphenol C15 line.

The Best Ingredients from the Vine

Caudalie refers to the effects of their natural beauty care products as vinotherapy, as they use the nutrients found in wine grapes to address skin imperfections and promote healthy facial skin. Wine grapes contain nutrients called polyphenols, antioxidants that reduce the oxidation damage caused by free radicals in ultraviolet energy. Many Caudalie beauty solutions provide anti-aging benefits for mature and dry skin with grape water, grape-seed oil and nutrients isolated from wine grapes. Fair trade plant oils and butters, natural moisturizers and emulsifiers and herbs like sage, flax seed, chamomile, ginseng, echinacea and ginger are combined with the wine grape extracts, oils and waters to make each Caudalie formula as natural as possible.

Breakthrough Treatments

Caudalie is especially well known for producing innovative treatments for a variety of skin care concerns, including fine lines, lost elasticity, dullness and cellulite. The brand holds patents on a number of exclusive ingredient complexes and technologies that minimize imperfections and protect the complexion in a natural way. One example is Vinolevure, an ingredient made from wine yeast that helps boost the skin's natural protective abilities while locking in moisture to fight dryness. Another key ingredient is Viniferine made from the sap of grapevines. This ingredient minimizes dark spots by interfering with skin pigment production and decreases the risk of future darkening by shielding the skin from the effects of oxidation.

All of the Essentials for Skin Care

With Caudalie skin care products, you can create a complete daily regimen filled with the skin-healthy natural nutrients found in the vineyard and beyond. Purify your complexion with a cleanser and then balance your skin with a toner. Use scrubs and exfoliants to remove cellular debris and hydrate your complexion with moisturizers. Caudalie even offers hair care, body care and hand and foot care products that allow you to benefit from antioxidant-rich natural ingredients all the way to your toes. See for yourself what options are available to help you care for your skin in this selection of Caudalie products.

Keeping Skin Care Green

The experts at Caudalie have taken steps to reduce the number of synthetic ingredients in their formulas to protect the skin and the planet. All of the products that bear the Caudalie brand name have been free of parabens since 2006. Additionally, the products do not contain phenoxyethanol, mineral oil, paraffin, synthetic dyes, sodium laureth sulfate or phthalates. Every Caudalie product is vegan friendly, as the brand does not use animal-derived ingredients.

Committed to Sustainability

Caudalie doesn't just offer green skin care products; the brand is a green company committed to protecting the planet that provides the key ingredients for their products. To reduce waste, the brand uses recycled and recyclable plastic and paper packaging and prints nearly 90 percent of their advertising and marketing materials on recycled paper or paper produced from forestry operations that are certified as sustainable. The company has also installed 12 water recycling systems and its own water recycling treatment plant to conserve precious resources and has taken steps to minimize their carbon dioxide emissions as much as possible.

Giving Back to the Planet

As a part of their mission to protect the Earth, Caudalie is involved with a number of nonprofit organizations that are working to make the world a greener place. Caudalie donates 1 percent of their annual sales to the 1% For the Planet movement, which provides funding for NPOs that are involved with environmental protection projects. The company has also teamed up with the World Wildlife Federation, Nordesta and Coeur de Forêt to protect or replant forests in Sumatra, Brazil and Peru.