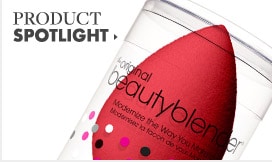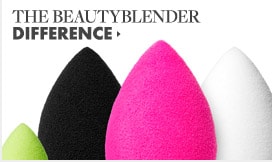 Professional makeup artist Rea Ann Silva created beautyblender® while working with models and celebrities. Today, her line of beauty tools is trusted by pros and everyday people around the world due to their unique ability to make cosmetics application a highly effective and effortless task. The tools are easy to use and offer many different beauty benefits. With beautyblender® tools, you can finally get the professional results you've been looking for with ease from all of your cosmetics.


SHOP ALL BEAUTYBLENDER PRODUCTS
| 
READ MORE
Created by a Pro

Rea Ann Silva spent years helping celebrities and models prepare for the camera, working with notables like Chris Rock, Rod Stewart and Vivica A. Fox. After more than a decade in the business, Rea Ann realized that getting optimal results from cosmetics was more difficult than it needed to be. She discovered that the makeup that she had at her disposal wasn't the cause of the problem. Rather, she didn't have the right tool to help her make the most of those cosmetics.

Inspired to find a solution that would help simplify the application process, Rea Ann began experimenting at home and on set. In 2002, she finally perfected her design and the first beautyblender® was born. By 2003, she was ready to sell her first sponge. News about the benefits of beautyblender® tools quickly spread and within just five years, Rea Ann's line of applicators was being sold around the world.

A Breakthrough Makeup Applicator

The tool that made beautyblender® legendary in the beauty industry is the egg-shaped sponge, which is now available in different styles and sizes to give you the perfect tool for every makeup application task from dotting on primer to smoothing on foundation to gliding on sunless tanner from head to toe. While each of the egg sponges has its own unique features, the overall design and basic benefits are the same. The egg shape allows you to apply makeup to large and small areas with a single tool, and the roundness of the sponges ensures even coverage without streaks and lines. All of the sponges are made from a luxuriously soft, highly absorbent material with an open cell structure. When this material is moistened, it holds enough water to ensure optimal application without causing drips. The material allows makeup to remain on the outer surface of the sponge, so it transfers easily to the skin.

Tools for Common Tasks

After changing the way people apply face and body cosmetics for the better, Rea Ann Silva and her team set their sights on improving application methods for other types of cosmetics. Over the years, the beautyblender® collection has grown to include a number of other innovative tools that make it possible to get optimal results from cosmetics with less effort. With beautyblender® tools, you can apply everything from eyeliner and lip liner to concealer and contouring cosmetics effortlessly. In addition to applicator tools, beautyblender® offers a number of skincare tools that you can use as a part of your regimen for cleansing, clarifying and more.

Exceptional Quality Assured

No matter which beautyblender® tool you choose, you can be confident that you're getting a product of exceptional quality. All of the beautyblender® sponges, pads and other tools are made out of luxury grade materials in accordance with strict quality controls. By carefully controlling the steps of the manufacturing process, beautyblender® is able to offer products that exceed expectations and can be used daily for longer than many other tools on the market. Ideal for all skin types, beautyblender® tools are safety tested and made from hypoallergenic materials without any known irritants. Plus, beautyblender® tools are odor free, so they're more pleasing to use than many other sponges. Experience the beautyblender® difference for yourself.