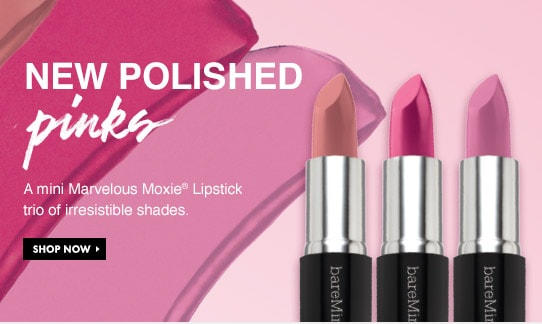 The finest cosmetics don't just make you look pretty - they make you feel beautiful. bareMinerals products are formulated with skin-loving ingredients that highlight your natural beauty while nourishing your complexion. bareMinerals is dedicated to making innovative formulas developed with purity in mind. You get all the beauty-enhancing benefits without harsh chemicals. Millions of women have discovered our high-quality products, including our award-winning foundations that blend makeup and skin care.


SHOP ALL BAREMINERALS PRODUCTS
 |
READ MORE
Foundation

Many bareMinerals beauty products have earned a loyal following, but the undisputed superstars of the bareMinerals lineup are our foundations. The Original Foundation Broad Spectrum SPF 15 is our classic loose mineral foundation, and this groundbreaking formula has been winning awards for more than a decade. This SPF foundation offers the ideal combination: flawless coverage with a natural, sheer look.

In 2015 we won Glamour Magazine's Glammy Award and Allure Magazine's Readers' Choice Award for ORIGINAL Foundation, O Magazine's Beauty Top Pick O-Ward for bareSkin Serum Concealer, and Allure Magazine's Best of Beauty Award for Complexion Rescue and Blooming Blush Brush, just to name a few!

For those with oily skin, the Matte Foundation Broad Spectrum SPF 15 can help minimize the appearance of pores and absorb excess oil without leaving your skin dry. Like the Original, this award-winning lightweight mineral foundation lasts up to 8 hours. If you're looking to address skin redness or imperfections, our Blemish Remedy Foundation is an effective option, while those seeking extra hydration may be drawn to our Ready SPF Foundation. Our bareSkin Pure Brightening Serum Foundation is a thin, lightweight product that harnesses the power of lilac stem cells and vitamin C for a brighter complexion and a natural finish.

Complexion Rescue Tinted Hydrating Gel Cream

One of the hottest skin care products in the bareMinerals lineup is our Complexion Rescue Tinted Hydrating Gel Cream. Think of this as a BB cream, CC cream and tinted moisturizer all wrapped into one for a breakthrough product that restores your skin's natural radiance. In clinical studies, this gel cream has been shown to provide a 215 percent increase in skin hydration in only one week of use.

Complete Lineup for your Beauty Ritual

Of course, your beauty routine consists of more than just a top-quality foundation. bareMinerals' skin care and makeup collection is designed to get you from start to finish.

Our Skinsorials skincare line is formulated to deliver exceptionally pure and revitalized skin. This line includes a powerful serum for ridiculously glowy skin, four luxurious cleansers and four nourishing moisturizers to meet your skin care needs for every season.

Using the popular Prime Time Foundation Primer before applying your foundation can help extend the life of your foundation and improve the look and texture of your skin. The bareMinerals brighteners and finishing powders can add to your skin's glow and send you out the door with a flawless finish.

Enhance your Eyes and Lips

Accentuate your gorgeous, natural-looking face with eye makeup and lip products from the extensive bareMinerals collection. Our 5-in-1 BB Cream Eyeshadow provides skin-boosting benefits in addition to enhancing your natural beauty, while our high-quality eyeliners and mascara ensure stunning, long-lasting finishes. Try our Lash Domination Volumizing Mascara for 1600 percent more volume! It even comes in a petite size for shorter lashes. Perfect your pout with lip gloss that serves up a blast of vivid color with nonstop shine, and add definition with our precision lip liners. Treat lips to a rush of hydration and an extra pop of color with bareMinerals lip balms.

At bareMinerals, we believe that the ideal beauty products should combine makeup and skin care, and that's the goal behind each of our nourishing, skin-loving formulas.